They live together as 8th graders at an all-girls school hidden as aliens, rogue ninjas, and girls with superpowers, a must-watch anime.
The production is handled by Studio Flad with Makoto Hoshino as director. The series is composed by Megumi Shimizu, the character designs are illustrated by Ruriko Watanabe, and the music is composed by Tomoki Kikuya.
Since April 2020, Kodansha has serialized the anime based on Madoka Kashihara's manga series. There are currently two volumes in print.
There are 7 episodes in total in one season of the anime. The first season of the show is currently on air.
An official trailer and key visual has been released which you can watch below.
The Little Lies We All Tell
The official website describes the story as: 4uso-anime.com
Rikka, Chiyo, Sekine, and Tsubasa are a group of girls who attend the Nakayoshi Girls' School. They look like ordinary second-year junior high school students, but in fact, they all have a secret that no one can tell… An alien, a ninja, a psycho, and a cross-dresser!? Do they plan to destroy the classroom and the earth!?
A typical all-girls school is the setting for The Little Lies We All Tell, but there are some unusual eighth-grade students. This is because the class includes the following:
An alien from outer space.
A ninja without a tribe.
A girl who reads minds.
A boy that tries to pass as a girl.
Despite this, most students assume they are the only ones hiding something, not realizing that others are also hiding something.
This unlikely group must cope with school life and complete their goals despite the only one who knows — the psychic — giving away her secret.
There is a surprising twist to the idea in The Little Lies We All Tell. There are jokes flying thick and fast throughout every moment of this show. It's more like a fast-paced sketch show than a sitcom.
In addition to having a story, the episodes serve more as frames for sketch-like scenarios — many of which take a surreal or unexpected turn.
Aired: Oct 16, 2022
Premiered: Fall 2022
Broadcast: Sundays at 02:00 (JST)
Producers: Pierrot, Kodansha, ABC Animation, MediBang
Studios: Studio Flad
Source: Manga
Genre: Comedy
Themes: Gag Humor, School
Demographic: Shounen
Characters and Voices
Sekine –    Voiced by: Sakura, Ayane
Tsubasa – Voiced by: Han, Megumi
Chiyo –  Voiced by: Murakami, Natsumi
Rikka – Voiced by: Tanaka, Chiemi
Masked Bear – Voiced by: Kaneda, Tomoko
Brian-sensei – Voiced by: Ueda, Youji
Hanzou – Voiced by: Hirose, Yuuya
Tsubasa's Older Sister – Voiced by: Serizawa, Yuu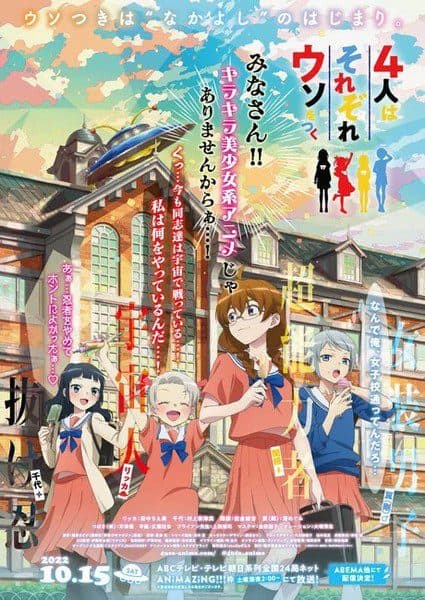 The Little Lies We All Tell – | Official Trailer