Sinister SpongeBob villains, from the ruthless Plankton, DoodleBob, King Neptune, and The TattleTale Strangler to the diabolical Man Ray.
SpongeBob SquarePants, the beloved animated series created by Stephen Hillenburg, has entertained audiences for over two decades.
One of the reasons for its enduring popularity is the show's diverse and colorful cast of characters, including a wide range of villains who add depth and nuance to the show's comedic storylines.
The show also features several more fantastical villains, such as the mischievous and shape-shifting DoodleBob and the powerful and evil Dennis.
Popular Spongebob Villains
In addition to recurring characters, the show also features a host of one-off villains, such as the vengeful flying Dutchman, the power-hungry King Neptune, and the greedy businessman Sheldon J. Plankton.
Each character brings unique characteristics and motives to the show, creating a rich and varied cast of antagonists.
Let us go over each villain from Spongebob:
Who Is Consider A Spongebob Super Villan?
It is difficult to say who the evilest supervillain in SpongeBob SquarePants is, as the show often portrays its villains in a comedic and cartoonish manner.
However, Plankton is considered to be the main villain of the show.
To boost his business, he often plots to steal the Krusty Krab's secret recipe for Krabby Patties from Chum Bucket, a failing restaurant across the street.
Plankton is portrayed as a ruthless, cunning, devious villain who will stop at nothing to achieve his goals.
He is also the most recurring villain of the show and is featured in many episodes.
How Many Villains are in SpongeBob?
There are between 80 – 100 villains in SpongeBob.
The show has over 20 seasons and many episodes, so it's hard to give an exact number of villains. It has introduced many recurring antagonists, but the main villains in the show are Plankton, Squidward Tentacles, Sheldon J. Plankton, and Mr. Krabs.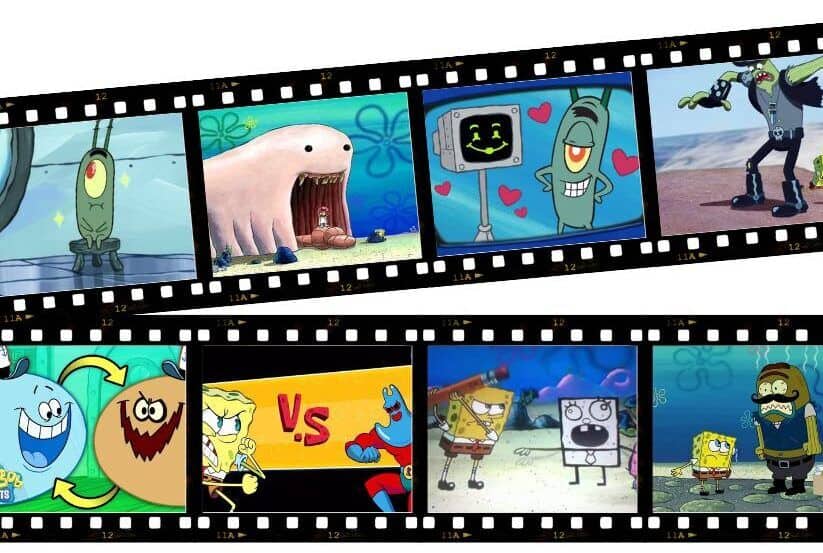 Here is a more extensive list of All The SpongeBob villains
Abrasive SpongeBob
Alaskan Bull Worm
Alternate Reality Mr. Krabs
Animatronic Hieronymus Glove
Art Appraiser
Atomic Flounder
Big One (SpongeBob SquarePants)
BlackJack SquarePants
Boat Jacker
Bubble Bass
Burger-Beard
Captain Scarfish
Carl (SpongeBob SquarePants)
Catfishstress
Con Man (SpongeBob SquarePants)
Coupe
Cuddle E. Hugs
Cyclops (SpongeBob SquarePants)
Dead-Eye Plankton
Dennis (SpongeBob SquarePants)
Dirty Bubble
Don Grouper
DoodleBob
Dorsal Dan
Dragon Jellyfish
Dreaded Patrick
Earworm
El Diablo (SpongeBob SquarePants)
Every Villain Is Lemons
Evil Alien Jellion Overlord
Evil Syndicate
Gale Doppler
Globulous Maximus
Gordon (SpongeBob SquarePants)
Hash-Slinging Slasher
Hoodoo Guru
Jelliens (SpongeBob SquarePants)
Jumbo Shrimp
Karen Plankton
King Gorge
King Poseidon
Kraken (SpongeBob SquarePants)
Madame Hagfish
Man Ray
Master Udon
Mini Doodles
Mr. Krabs
Mrs. Puff
Nosferatu (SpongeBob SquarePants)
Notodoris
Nurse Daisy Bazooka
Plankrab
Plankton
Plankton Family
Planktonamor
Prawn (SpongeBob SquarePants)
Puffy Fluffy
Robot Mantis
Robot Plankton
Robots (SpongeBob SquarePants)
Sea Bear
Sergeant Sam Roderick
Seymour Scales
Sinister Slug
SpongeBot SteelPants
Stickyfins Whiting
Swamp Natives
Tattletale Strangler
The Bad Guy Club For Villains
The Fisherman (SpongeBob SquarePants)
The Frogfish
The Mawgu
The Moth
The Thug Tug Gang
ToyBob