Wacky Races is an animated television series created by the legendary Hanna-Barbera Productions, which originally aired from 1968 to 1969.
The show features a diverse cast of 11 eccentric racers, each with unique vehicles and quirky personalities, competing against each other in a series of wild, wacky, and often humorous races.
The series is known for its slapstick humor, outrageous characters, and imaginative racing scenarios. Each episode follows the racers as they navigate treacherous terrains, face unexpected obstacles, and employ cunning strategies in their quest for victory.
Cartoon Characters in Wacky Races
The series is also known for its memorable villains, Dick Dastardly and his snickering sidekick Muttley, who often resort to underhanded tactics to win the race.
Wacky Races has become a beloved classic in animation, capturing audiences' imaginations for generations. Its enduring appeal can be attributed to its timeless humor, engaging characters, and thrilling racing action.
First episode date: September 14, 1968 (USA)
Network: CBS
Final episode date: January 4, 1969
Spin-offs: Dastardly and Muttley in Their Flying Machines, The Perils of Penelope Pitstop
Composer: Hoyt Curtin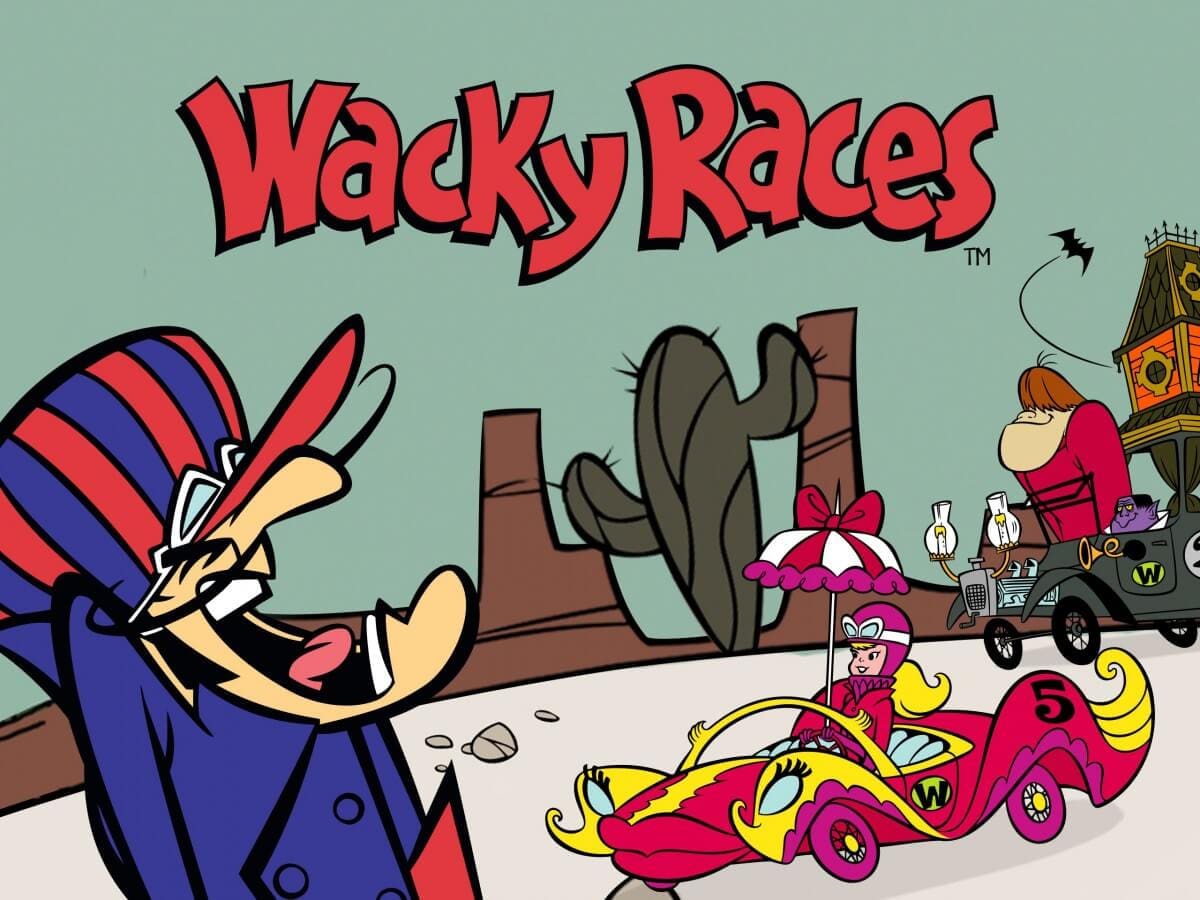 Start Your Engines: A Hilarious Look at the Madcap World of Wacky Racers
This madcap cartoon, a true masterpiece of the late 1960s, had kids (and, let's be honest, adults) glued to their TV screens, rooting for their favorite outlandish racers.
1. The Slag Brothers (Rock & Gravel) – No. 1, The Bouldermobile
A pair of prehistoric cave dwellers in leopard print, Rock and Gravel Slag, tore up the track in their stone-age slab of a vehicle. They were never afraid to hurl boulders or use their trusty clubs to give their rivals a run for their money.
2. The Gruesome Twosome (Big Gruesome & Little Gruesome) – No. 2, The Creepy Coupe
These ghoulish racers drove the Creepy Coupe, a mobile haunted house, one a towering Frankenstein-like monster and the other a pint-sized vampire. With spooky shortcuts and petrifying powers, these two gave their competitors the heebie-jeebies!
3. Professor Pat Pending – No. 3, The Convert-a-Car
This ingenious inventor zipped around in the Convert-a-Car, a vehicle that could transform into virtually anything. Professor Pat Pending left everyone else in the dust with a switch flick or a lever pull!
4. The Red Max – No. 4, The Crimson Haybaler
Straight out of a World War I movie, The Red Max piloted the Crimson Haybaler, an airplane-car hybrid. Daring and devilish, this German flying ace always aimed high.
5. Penelope Pitstop – No. 5, The Compact Pussycat
The belle of the ball, this sassy Southern gal, dressed in pink from head to toe, raced in her equally pink Compact Pussycat. Don't let her beauty fool you, though – Penelope was a force to be reckoned with on the racecourse!
6. Sergeant Blast & Private Meekly – No. 6, The Army Surplus Special
With Sergeant Blast barking orders and Private Meekly obeying, this military duo raced in their trusty tank-like Army Surplus Special. Their secret weapon? A handy cannon to blast away the competition!
7. The Ant Hill Mob (Clyde, Ring-a-Ding, Rug Bug Benny, Mac, and Danny) – No. 7, The Bulletproof Bomb
This gang of pint-sized 1920s mobsters, led by Clyde, rode in their getaway car, The Bulletproof Bomb. Armed with tommy guns and a sense of humor, they zipped and zagged through the competition.
8. Luke & Blubber Bear – No. 8, The Arkansas Chug-a-Bug
Hillbilly Luke and his lovable sidekick, Blubber Bear, raced through the tracks in the steam-powered Arkansas Chug-a-Bug. They may have been slowpokes, but they sure knew how to have a good time!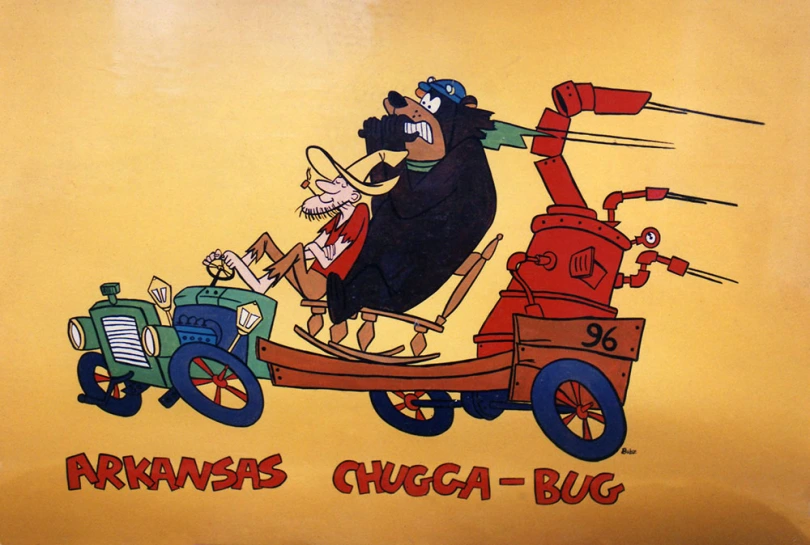 9. Peter Perfect – No. 9, The Turbo Terrific
The handsome and charming Peter Perfect epitomized perfection – or so he thought. Piloting his sleek Turbo Terrific, he never missed a chance to impress Penelope Pitstop
10. Rufus Ruffcut & Sawtooth – No. 10, The Buzzwagon
This lumberjack and his trusty beaver sidekick, Sawtooth, raced through the wild and wacky tracks in their log-bearing Buzzwagon. With buzzsaw wheels and a never-ending supply of timber, they were ready to carve through any obstacle!
11. The Sneaky, Scheming, Dastardly Duo – No. 00, The Mean Machine
Last but not least, the dastardly duo that always stole the show: Dick Dastardly and his snickering canine accomplice, Muttley. They were always plotting and scheming with their sinister, souped-up Mean Machine, stopping at nothing to win the race – even if it meant playing dirty!
The Wacky Races' Pop Culture Impact
Wacky Races burst onto TV screens in 1968, captivating viewers with its slapstick humor and wild antics. This Hanna-Barbera classic quickly became a cultural phenomenon, inspiring a plethora of merchandise and memorabilia. Even today, fans continue to cherish retro-themed collectibles.
The show also spawned spin-offs like "The Perils of Penelope Pitstop" and "Dastardly & Muttley in Their Flying Machines," giving audiences more wacky content. The 2017 reboot solidified its legacy, proving that Wacky Races still resonates with fans over 50 years later.
Wacky Races' Timeless Humor
Wacky Races' enduring charm and appeal stem from its distinctive humor. Embracing timeless slapstick comedy, the show transcends generations with its exaggerated expressions, ludicrous antics, and absurd situations.
The larger-than-life characters ground the show's humor, each boasting unique quirks and catchphrases. Dick Dastardly's schemes, marked by his infamous "Drat! Drat! And double drat!" and Muttley's iconic snickering laugh, define the series.
Beyond physical gags, witty wordplay and pun-filled dialogue entertain viewers of all ages. This timeless, universal comedy keeps audiences returning to Wacky Races, even decades after its debut.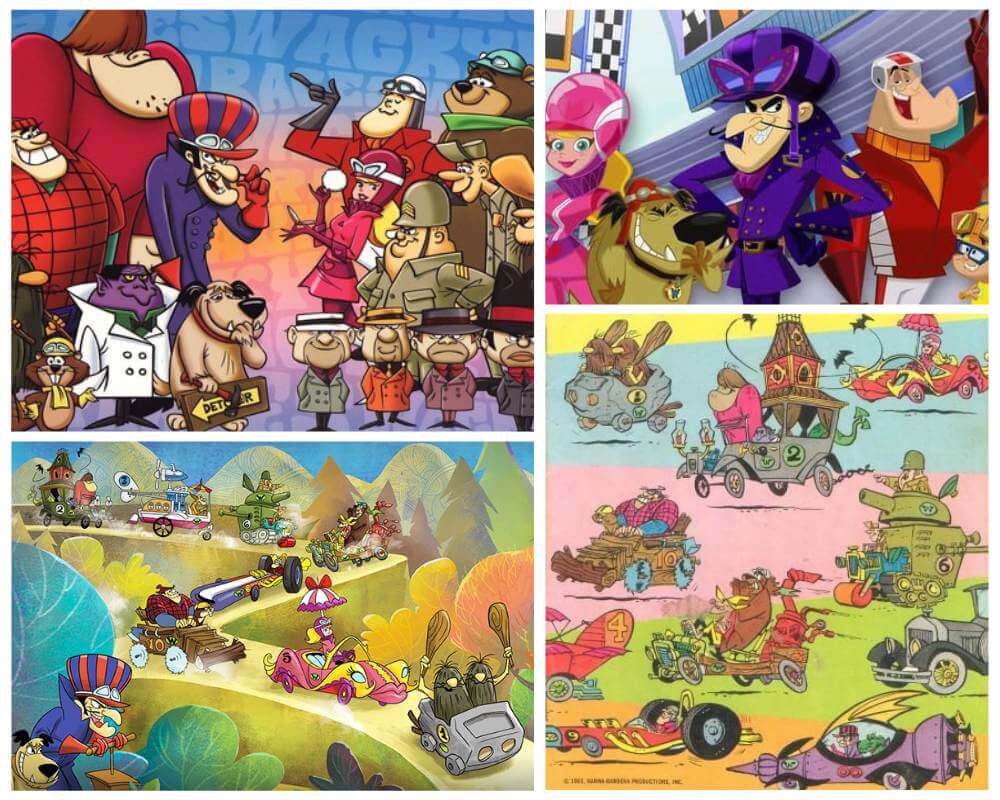 The Lessons Learned from Wacky Races
Wacky Races delivers more than laughs and thrills—it imparts timeless life lessons for all ages. The show highlights sportsmanship and fair play, as Dick Dastardly's cheating rarely leads to victory.
Perseverance is another key lesson, with racers overcoming numerous obstacles and setbacks to reach the finish line. Their tenacity and resilience remind us never to give up, no matter the challenge.
Lastly, Wacky Races emphasizes teamwork and camaraderie. Despite fierce competition, racers often unite during adversity, helping one another. This spirit of cooperation and unity is vital for viewers across generations.
Wacky Races is a Classic
Wacky Races is a classic Hanna-Barbera animated series from 1968 to 1969. It features a group of 11 racers competing in different locales worldwide, each character having a unique vehicle and personality.
Who are the main characters in Wacky Races?
The main characters are the 11 racers, including Dick Dastardly and his dog Muttley, Penelope Pitstop, Peter Perfect, The Slag Brothers, The Gruesome Twosome, The Red Max, Sergeant Blast and Private Meekly, The Ant Hill Mob, Lazy Luke, and Blubber Bear, and Rufus Ruffcut and Sawtooth.
Who created Wacky Races?
Wacky Races was created by animation legends William Hanna and Joseph Barbera, the founders of Hanna-Barbera Productions.
What is the premise of the show?
Wacky Races follows the adventures of the 11 racers as they compete in various wacky and outlandish races worldwide. Each character has a unique vehicle with special abilities, and they often use these abilities to try and gain an advantage over their competitors.
Who are the villains in Wacky Races?
The main villains are Dick Dastardly and his sidekick Muttley. They try to cheat to victory by sabotaging the other racers but usually fail miserably.
Did Wacky Races inspire any spin-off shows?
Yes, two spin-off shows were created based on Wacky Races characters: "Dastardly and Muttley in Their Flying Machines" (1969-1970) and "The Perils of Penelope Pitstop" (1969-1970).
What is the iconic catchphrase associated with Wacky Races?
The announcer's phrase, "And now, here they are, the most daredevil group of daffy drivers to ever whirl their wheels in the Wacky Races," is the iconic catchphrase associated with the show.
Were there any revivals or reboots of the series?
Yes, there have been a few attempts to revive the series. In 2006, a pilot for a new series called "Wacky Races Forever" was produced but never picked up. In 2017, a rebooted series called "Wacky Races" aired on Boomerang, featuring updated character designs and new racers.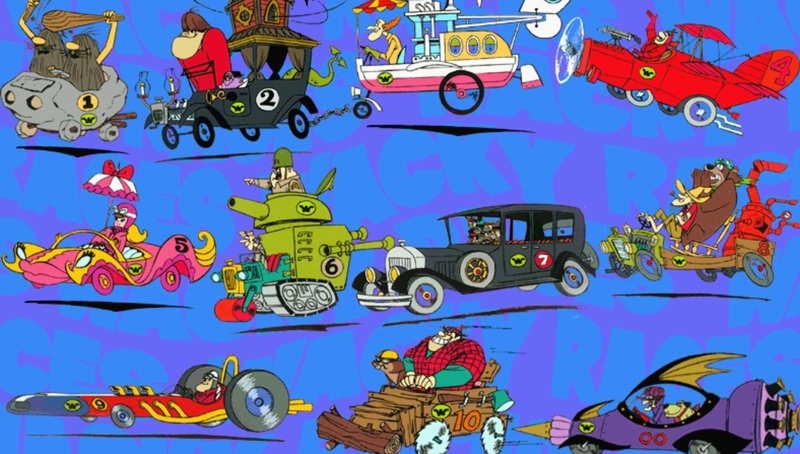 Episodes of Wacky Races
Wacky Races originally aired 17 episodes from 1968 to 1969. Here is a list of all the episodes:
See-Saw to Arkansas / Creepy Trip to Lemon Twist
Why Oh Why Wyoming / Beat the Clock to Yellow Rock
Mish Mash Missouri Dash / Idaho a Go-Go
The Baja-Ha-Ha Race / Real Gone Ape
Scout Scatter / Free Wheeling to Wheeling
By Rollercoaster to Upsan Downs / The Speedy Arkansas Traveler
The Zippy Mississippi Race / Traffic Jambalaya
Hot Race at Chillicothe / The Wrong Lumber Race
Rhode Island Road Race / The Great Cold Rush Race
Wacky Race to Ripsaw / Oils Well That Ends Well
Whizzin' to Washington / The Dipsy Doodle Desert Derby
Eeny, Miny Missouri Go! / The Super Silly Swamp Sprint
The Dopey Dakota Derby / Dash to Delaware
Speeding for Smogland / Race Rally to Raleigh
Ballpoint, Penn. or Bust! / Fast Track to Hackensack
The Ski Resort Road Race / The Overseas Hi-Way Race
Race to Racine / The Carlsbad or Bust Bash
Classic Wacky Races | See-Saw to Arkansas