Sanjay and Craig is an American animated television series that aired on Nickelodeon from May 25, 2013, to July 29, 2016. The series follows the adventures of a 12-year-old boy named Sanjay Patel and his best friend, Craig, who is a talking snake.
Set in the fictional town of Lundgren, the series explores the friendship between Sanjay and Craig as they embark on various hijinks and escapades that often involve epic quests, wild parties, or extreme challenges.
Despite the absurd situations they find themselves in, their loyalty and camaraderie are always at the heart of their adventures.
Sanjay and Craig's Endearing Friendship
Its humor and unique animation style characterize the show. It's known for its blend of comedy, absurdity, and heart, offering entertaining storylines and valuable lessons about friendship and bravery.
The series was created by Jim Dirschberger, Andreas Trolf, and Jay Howell and included the voices of Maulik Pancholy as Sanjay and Chris Hardwick as Craig.
Program creators: Jim Dirschberger, Jay Howell, Andreas Trolf
First episode date: May 25, 2013 (USA)
Final episode date: July 29, 2016
Composer: Matt Mahaffey
A Snake for a Bestie: The Unusual Pair of Sanjay and Craig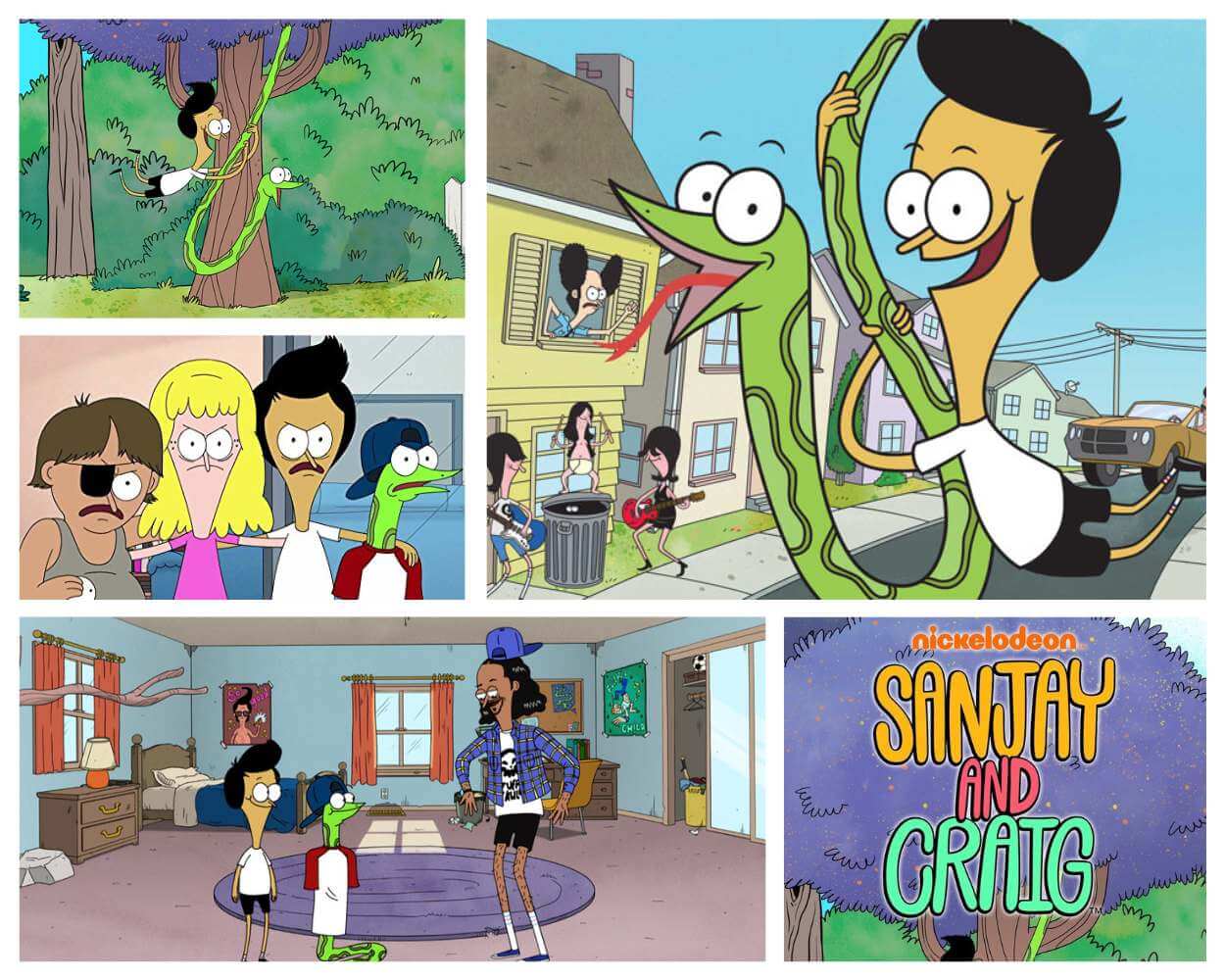 You know that eccentric pair in every cartoon series that takes the definition of 'friendship goals' to a whole new level? Meet Sanjay and Craig, a one-of-a-kind duo redefining this notion with their otherworldly adventures in the Nickelodeon classic.
Sanjay, a spirited 12-year-old, has a pet snake, Craig. Yes, you heard it right, a talking pet snake! Talk about pushing the envelope!
Never a Dull Moment: Their Adventures and Antics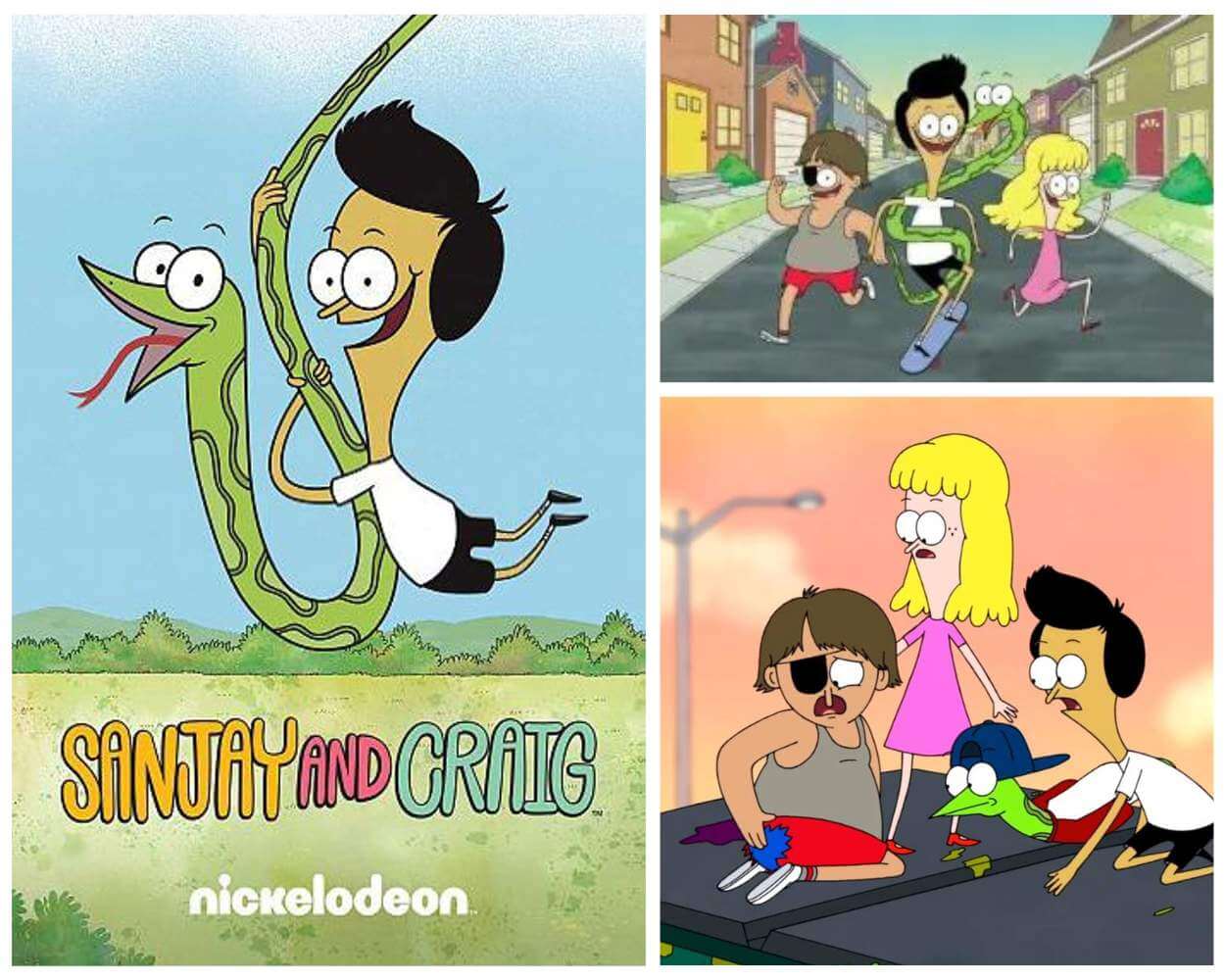 Boredom is an alien concept for our daring duo. Whether it's revving up for a high-stakes Dickson's Wing-Off challenge, surviving a frozen apocalypse, or hunting down the elusive Frycade Number One Fry Score, Sanjay and Craig's world is always a riot of color and chaos.
Their friendship is their superpower, and there's no hurdle too big for them to overcome.
Outrageous yet Relatable: The Underlying Themes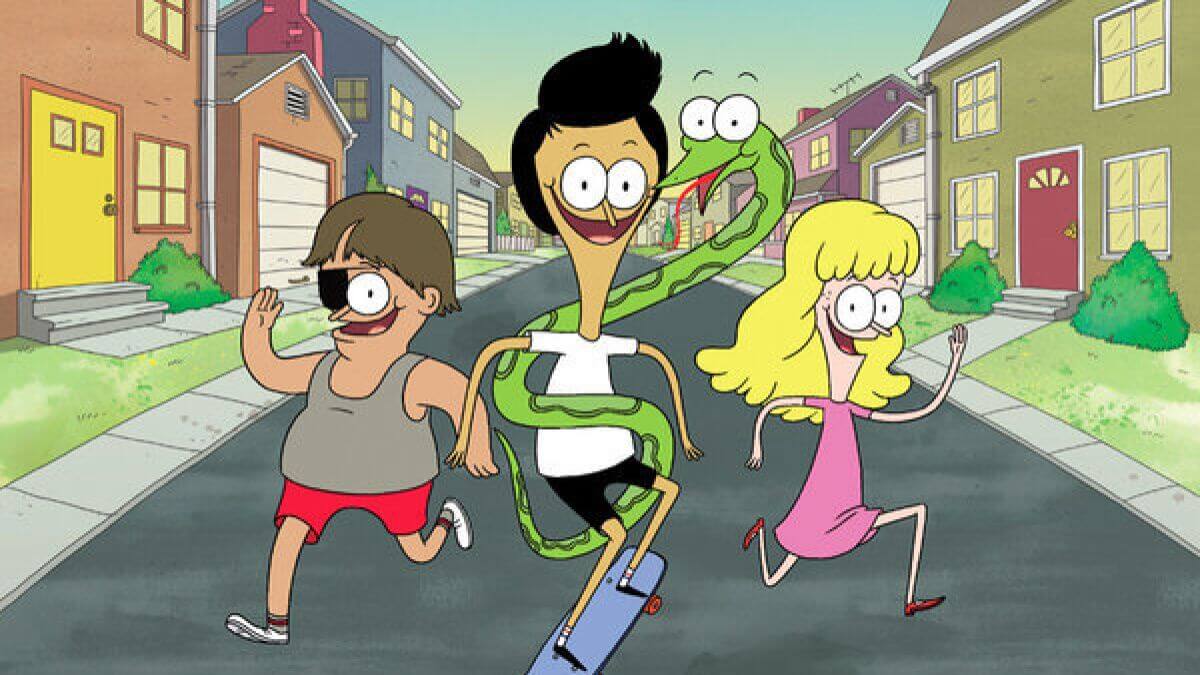 Despite the absurdities, this quirky show has an underlying layer of relatable themes. It explores friendship, bravery, and the pure joy of childhood.
It's a refreshing take on embracing your uniqueness and not being afraid to be a little eccentric. Who wouldn't want a talking snake friend after watching a few episodes of Sanjay and Craig?
From the Suburbs of Lundgren: Unique Supporting Characters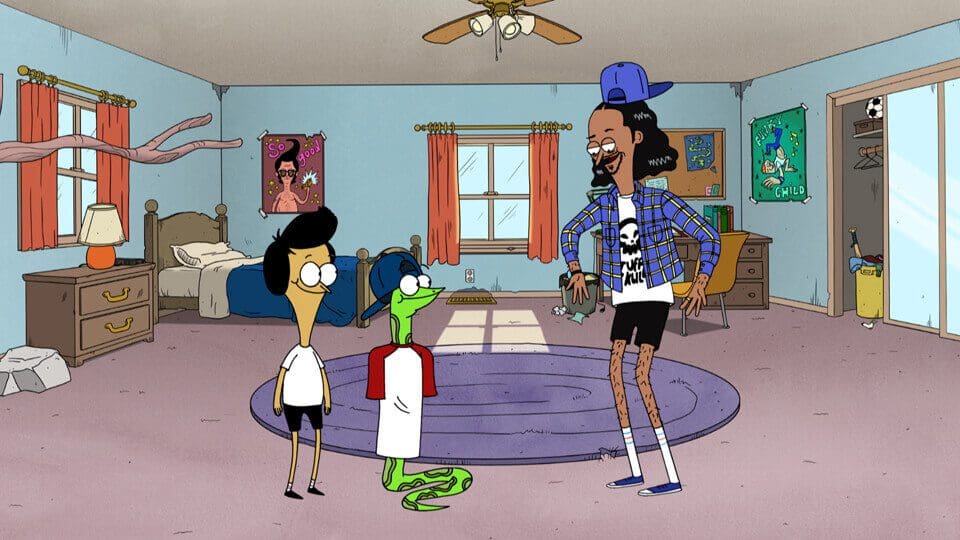 The wonderfully weird inhabitants of Lundgren spice up every adventure. There's Hector Flanagan, Sanjay's human best friend, who's the epitome of a die-hard fanboy.
Then we have the Dicksons, the disgustingly perfect family you can't help but love. Let's not forget the unpredictable and hilarious Mr. Noodman, who brings his brand of weirdness to the mix.
So Much More Than a Cartoon: Life Lessons from Sanjay and Craig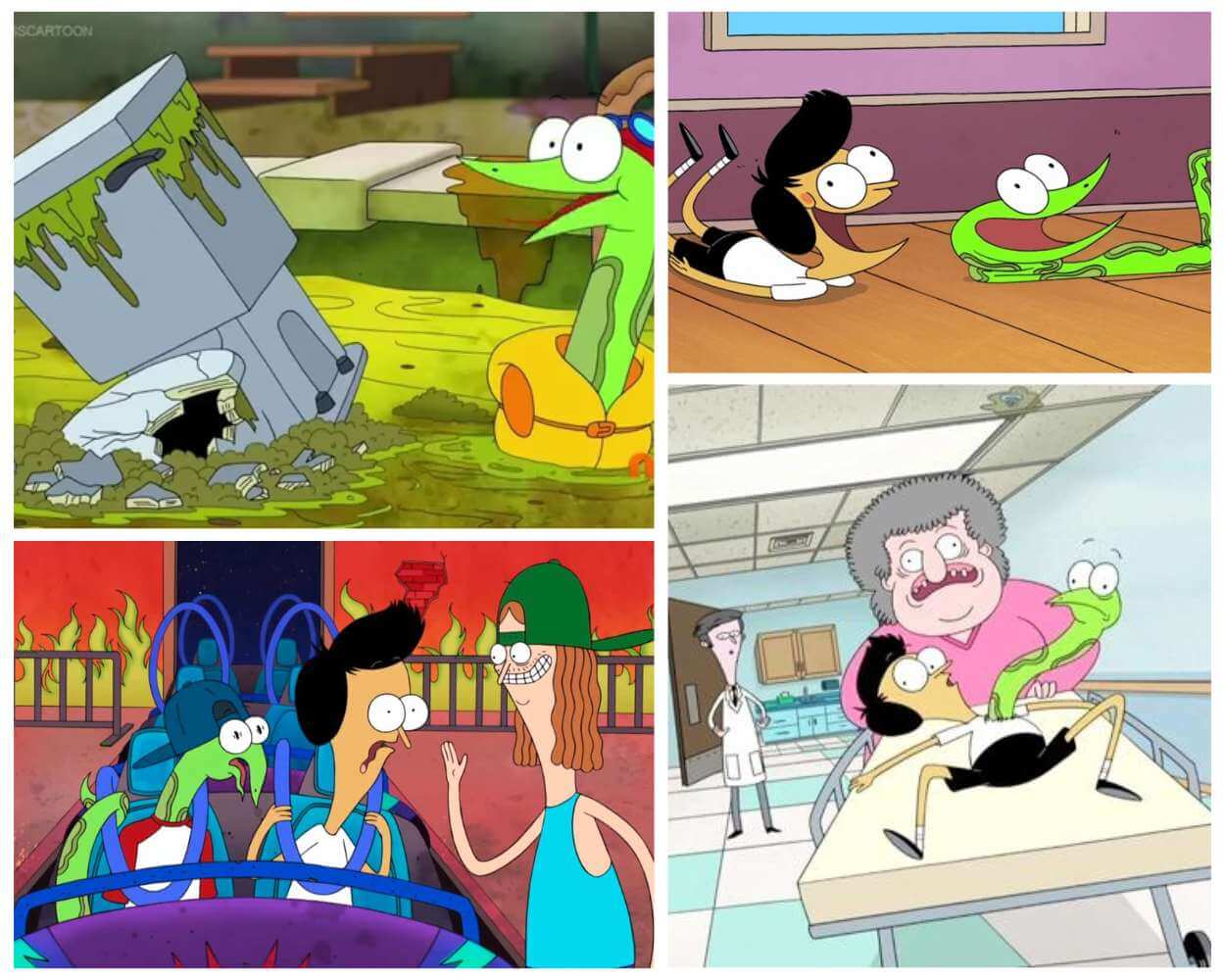 Amid all the fun and craziness, Sanjay and Craig subtly deliver valuable life lessons. It encourages viewers to leave their comfort zones and embrace the unpredictable.
It's a show that celebrates individuality, underscores the importance of friendship, and, most importantly, teaches us to have fun. After all, isn't that what life's all about?
Riding the Wave of Unusual: A Synopsis of Sanjay and Craig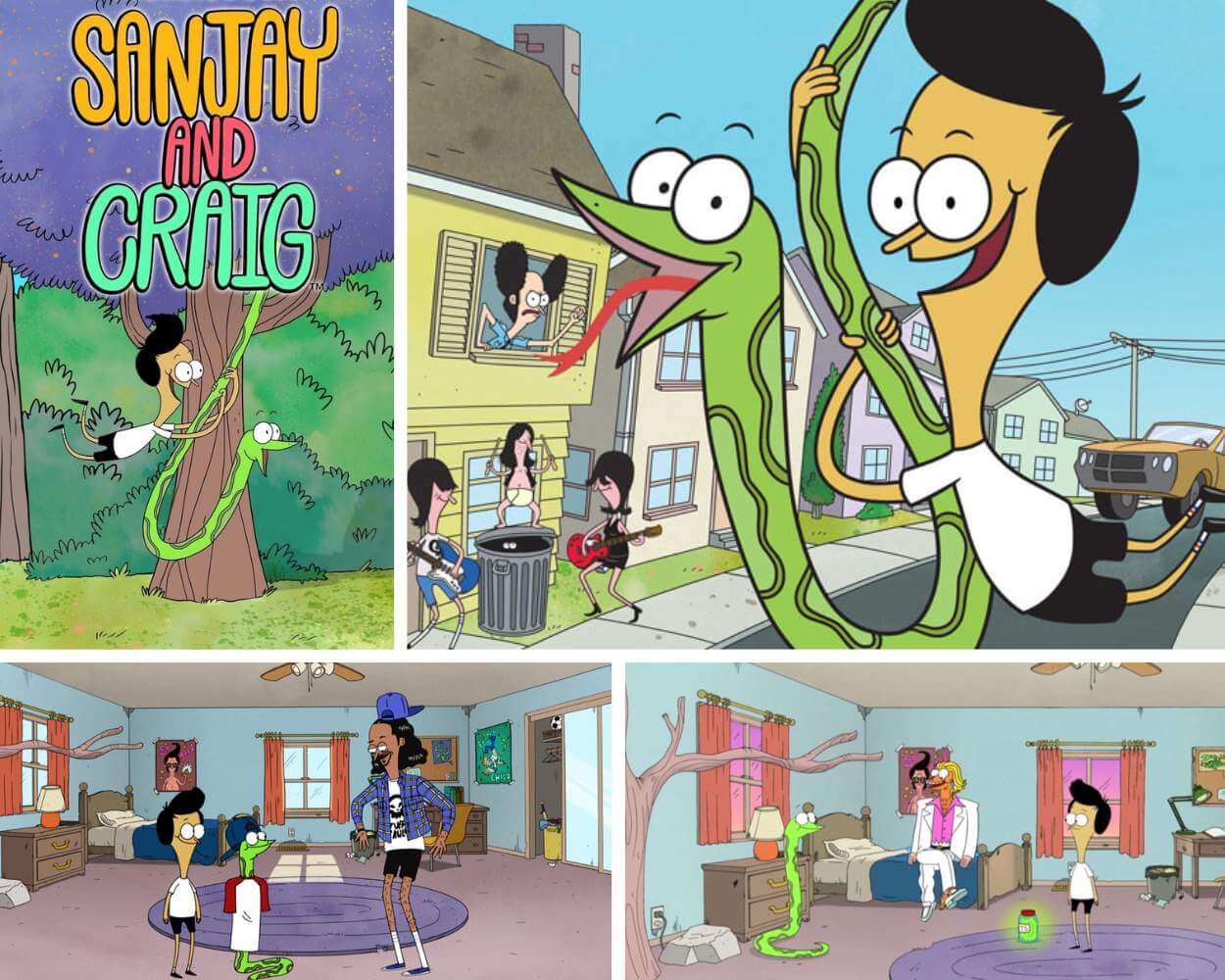 Summarizing Sanjay and Craig, you would say, "A boy and his talking snake embark on bizarrely delightful adventures." This hilarious show spins tales of Sanjay Patel and his best friend, Craig, a talking snake.
Sanjay and Craig prove that the bonds of friendship can transcend any boundaries, even species. They tackle exploits that range from the absurdly hilarious to the downright insane in the friendly suburban city of Lundgren. Amid the chaos, one consistent theme rings true: their unwavering commitment to each other.
Meet the Inhabitants of Lundgren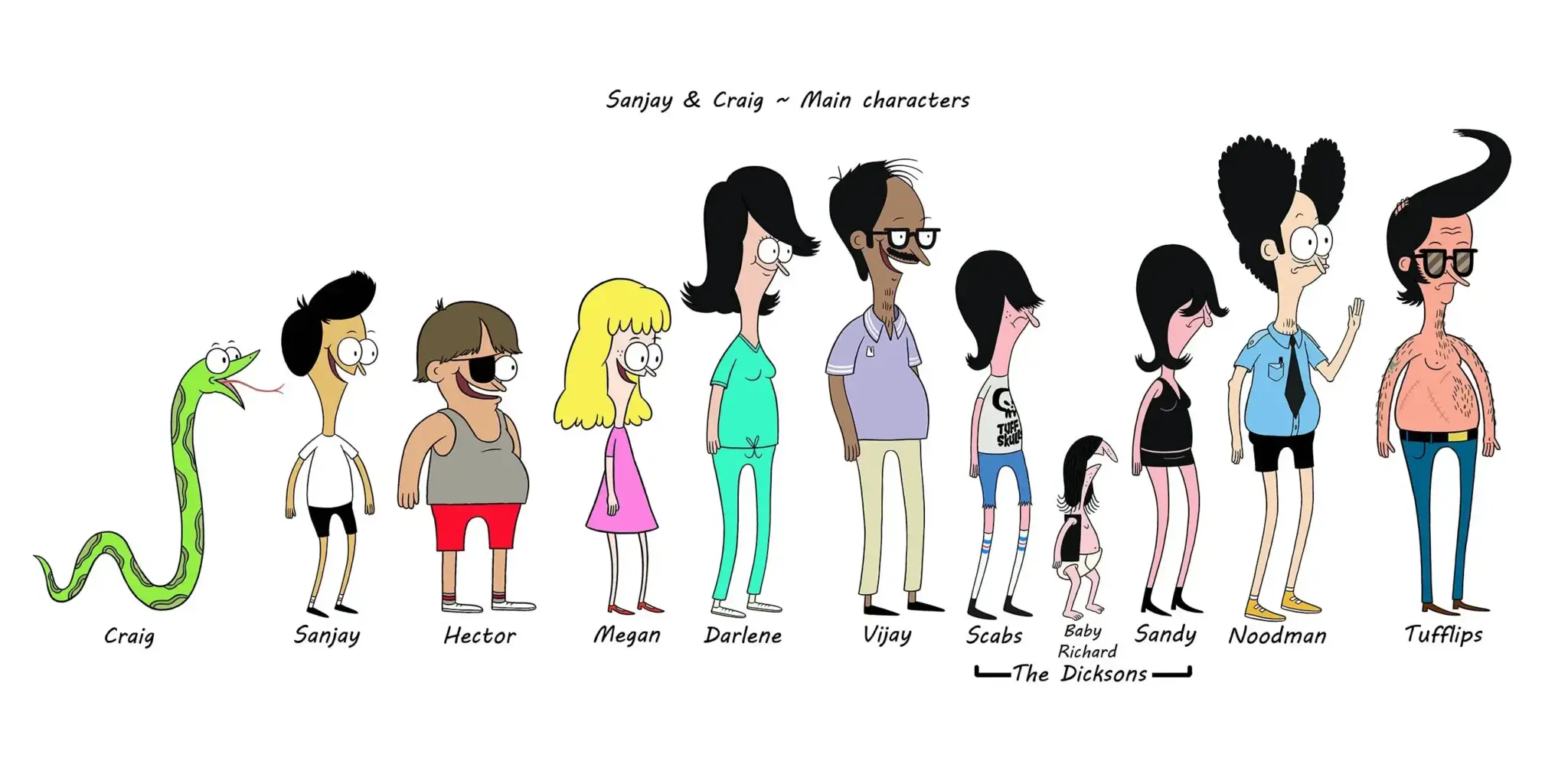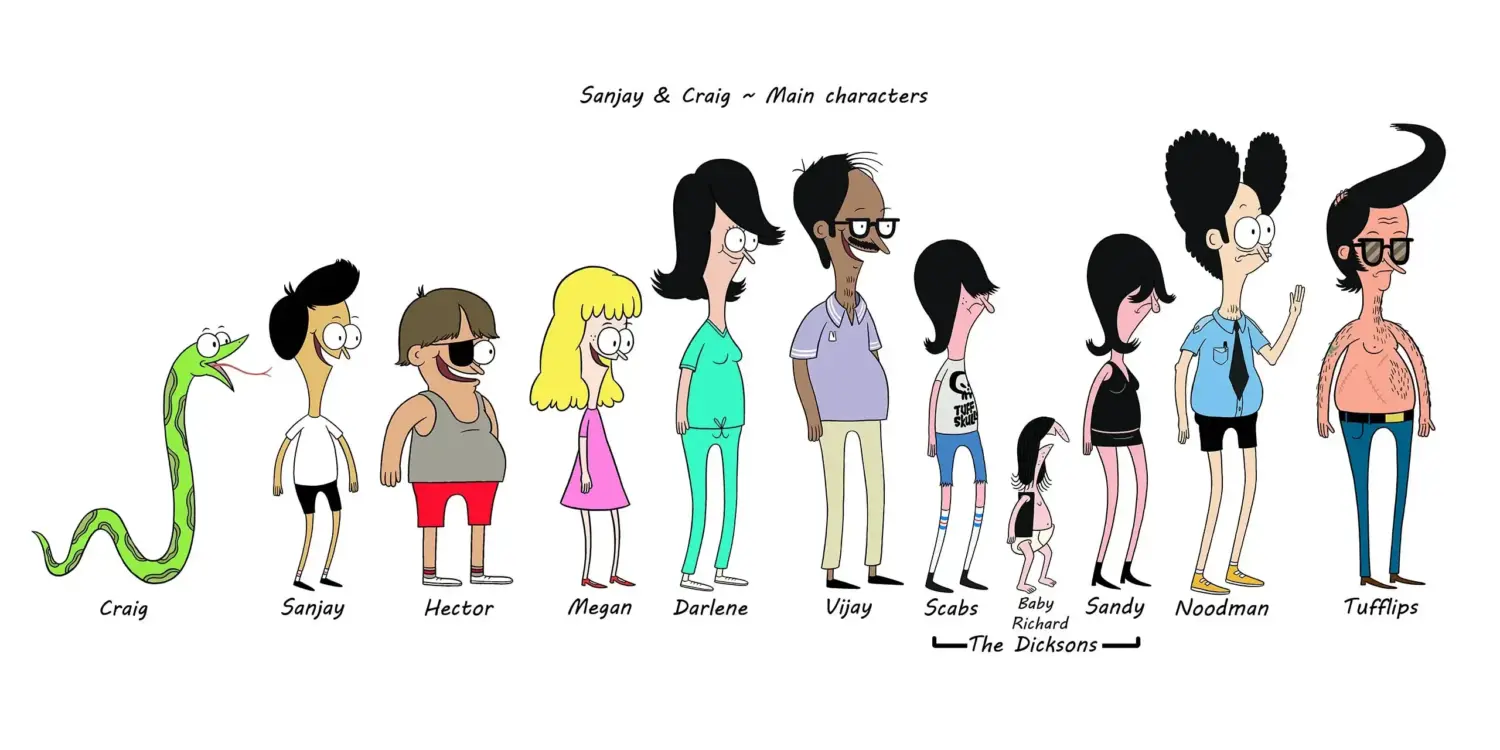 Sanjay Patel – The 12-year-old protagonist, Sanjay, is fearless, adventurous, and always ready for the next big thing, along with his best pal Craig.
Craig Slithers – The charismatic talking pet snake, Craig, is Sanjay's partner in crime and often the voice of reason, though he's not immune to getting caught up in their wild escapades.
Hector Flanagan – Sanjay's human best friend, Hector, is a fanboy to his core, always seen clad in his tighty-whities and sporting an unmatched enthusiasm for their adventures.
Megan Sparkles – Megan, the overachieving neighbor, may seem perfect, but she has an obsessive side, especially when it comes to winning affection of Sanjay.
The Dicksons – The Dicksons are the disgustingly perfect family next door, so perfect it's hilarious. They're always there to unwittingly foil Sanjay and Craig's plans.
Darlene Patel – Sanjay's rock-loving mother, Darlene, is blissfully unaware of Craig's ability to talk, and she provides a loving, grounded presence in the series.
Vijay Patel – Sanjay's fun-loving dad, Vijay, runs the Patel family store and always has a goofy joke or sage advice.
Remington Tufflips – Remington is an aging action movie star and Sanjay and Craig's idol. His past glories and current ridiculous predicaments make for some laugh-out-loud moments.
Mr. Leslie Noodman – The paranoid neighbor, Mr. Noodman, has an irrational fear of snakes, making him Craig's unwitting adversary and a constant source of hilarity.
Each character in Sanjay and Craig contributes to the charm and humor of the show, making it a rollicking ride from start to finish. Their quirks and eccentricities highlight the unique and often absurd aspects of everyday life in Lundgren.
Main Voice Cast
Maulik Pancholy as Sanjay Patel
Chris Hardwick as Craig Slithers
Matt Jones as Hector Flanagan
Linda Cardellini as Megan Sparkles
Grey DeLisle as Darlene Patel, Sandy, and Scabs
Kunal Nayyar as Vijay Patel
Nolan North as Baby Richard
Tony Hale as Mr. Noodman
Chris D'Elia as Remington Tufflips (credited as "Remington Tufflips")
Sanjay and Craig | Official Theme Song | Nick
What kind of animal is Craig in the show Sanjay and Craig?
Craig is a talking snake in the show Sanjay and Craig.
Where does the show Sanjay and Craig take place?
The show takes place in a fictional suburban city named Lundgren.
Who are the voice actors for the main characters in Sanjay and Craig?
Maulik Pancholy provides the voice for Sanjay, and Chris Hardwick voices Craig.
Why doesn't Sanjay's family know Craig can talk?
It's a running joke in the series that Craig can only talk and interact like a human when no other humans except Sanjay are present.
How many seasons does Sanjay and Craig have?
Sanjay and Craig ran for three seasons from 2013 to 2016.
Does Sanjay and Craig have any life lessons or morals?
Yes, despite the absurd humor and situations, the show often explores themes like friendship, courage, and the joy of childhood.
Who is Sanjay's idol in the show Sanjay and Craig?
Sanjay and Craig idolize Remington Tufflips, an aging action movie star in the series.
What is the primary theme of Sanjay and Craig?
The primary theme is the adventures of Sanjay and his talking snake, Craig, emphasizing their unwavering friendship despite their wild and often absurd escapades.
More Characters In "Sanjay and Craig"
Sanjay Patel – The show's young protagonist who loves adventures.
Craig Slithers – Sanjay's best friend who is a talking snake.
Hector Flanagan – Sanjay's eccentric human best friend.
Megan Sparkles – Sanjay's overachieving and competitive neighbor.
Darlene Patel – Sanjay's caring mother.
Vijay Patel – Sanjay's fun-loving father.
Remington Tufflips – Sanjay and Craig's idol, an aging movie star.
Leslie Noodman – Sanjay's neighbor with a fear of snakes.
The Dicksons – A perfect, yet odd family living next door.

Sandy Dickson – The mother of the Dickson family.
Scabs Dickson – Sandy Dickson's daughter.
Baby Richard Dickson – The youngest member of the Dickson family.

Belle Pepper – The owner of the Frycade, a local food/arcade place.
Chicken Chuck – A man who always has a chicken wing stuck in his beard.
Penny Pepper – Belle Pepper's daughter.
Tyson – The "cool" kid of Lundgren.
Farmer Larry – The local farmer.
Barfy – Hector's pet dog.
Mr. Flanagan – Hector's father.
Huggle Bunny – A local celebrity in Lundgren.
Dolphy – A dolphin-themed doctor at the local hospital.
Debbie Sparkles – Megan's mother.
Ronald Slithers – Craig's estranged brother.
Chido – A popular Mexican singer that Sanjay and Craig are fans of.