Green cartoon characters are loved by kids and adults alike, from Kermit the Frog, Shrek, and The Grinch to the Incredible Hulk. Step right into the vibrant world of cartoons, where the skies are bluer, the colors are brighter, and the stories are just waiting to sweep you away!
From early childhood to adulthood, cartoons have always been a magical source of joy, laughter, and pure delight.
But did you know that green holds a special place in this beautiful world of animation? Yes, you heard it right!
Green has been the favorite color of many iconic cartoon characters that have captured our hearts and imagination. From mischievous little creatures to superhero mutants, these characters have become household names, leaving a lasting impression on pop culture.
Everyone's Favorite Green Cartoon Characters
One such character that we all love and adore is none other than the lovable ogre, Shrek!
With a gruff exterior and sarcastic wit, voiced by the talented Mike Myers, Shrek is the epitome of a loveable character despite his unconventional appearance.
So, sit back, relax, and join us on a journey to rediscover the magic of green cartoon characters!
Green Disney Characters
Among the many green cartoon characters out there, these are just a few examples. Green is a versatile color representing all kinds of characters, making it a popular choice for cartoons.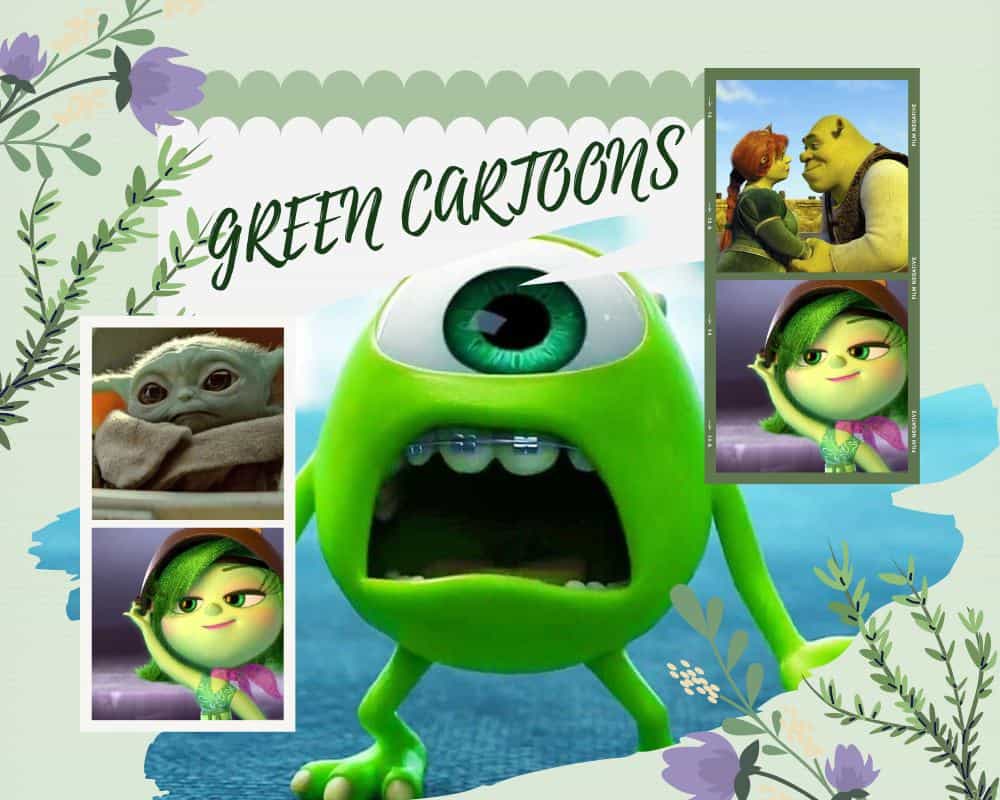 Why Are Cartoon Characters Green?
It is common to use green to represent various cartoon characters and attributes, and it comes in all shapes, sizes, and colors. How does the color green affect the cartoon characters, and why is it so prevalent?
One reason green is a popular color for cartoon characters is that it is relatively common in the real world.
This makes it easy for green characters to stand out and be easily recognizable to the audience.
A green character can also be more memorable and appealing because it is an eye-catching, vibrant color. Green may represent a character's otherworldly or supernatural nature in some cases.
The Hulk, for instance, is a green giant with superhuman strength and durability, and his green skin signifies his incredible power and otherworldliness.
The green color may also signify a character's connection to nature in other cases. Kermit the Frog, for example, is a green Muppet known for his gentle and lovable personality, and his green color helps to reinforce his connection to the natural world.
Similarly, Shrek is a green ogre who is initially gruff and reclusive, but he eventually learns to embrace his inner goodness and become a hero. His green skin helps to signify his connection to the natural world and his primal, animalistic nature.